My family puts a very eclectic Christmas tree up every year. Each ornament has a story; many of the decorations are as old or older than I am. There are ornaments from each of my parent's childhoods, ornaments from grandparents that have been passed down over the years, and ornaments that were hand-made by the children when they were kids. Some are raggedy, crappy looking ornaments that aren't decorative at all, but have symbolic meaning and remind me of other Christmases.
When I was about 9 years old my Dad and I were running some errands around Christmas time. I have many memories of sitting in my Dad's truck listening to the radio as he drove, singing, from one place to another — from the lumberyard to the hardware store to the grain store (we lived on a farm and my Dad built houses for a living). At any rate, we stopped by some place, probably picking up some gadget or a piece of hardware that he needed to fix something, and at the checkout counter I noticed a Christmas ornament that looked really cool. It was  pink poodle built around pipe cleaner wire. It was awesome, ugly and awesome, and my Dad laughed and bought it for me on the spot.
I spent the entire ride home twisting the pink poodle into different configurations. On every Christmas since I've done the same — each year, the poodle is made into a different pose, or attached to an accessory. When I discovered IBM compatible computers, the poodle surfed on a floppy disk. In college when I started learning yoga the poodle sat in a half-lotus. The year I graduated from college saw the poodle with a celebratory joint. This year, the first year I rode with SCUL, a coat hanger became a chopper for the poodle to ride: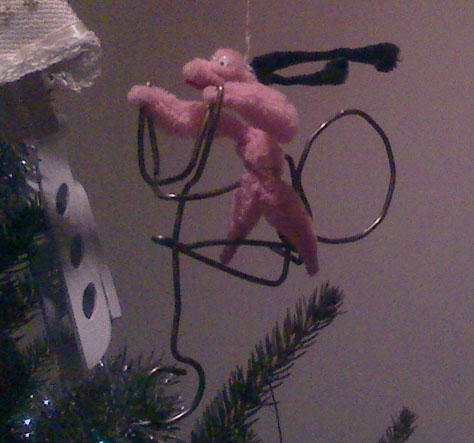 My Dad died the day before Christmas Eve three years ago. That memory is a hard one. And every time I unpack the pink poodle from my box of ornaments to hang on the tree, I remember him laughing when he bought the poodle, and laughing every year when he saw how much fun I had re-jiggering the poodle into something else. So, thanks, Dad — thanks for the poodle — and for leaving me with something to laugh about when I remember you every year when the tree goes up.
Merry Christmas everyone, and I hope you get to spend it with people you love.